Neema Malhotra, M.D.
Dr. Neema Malhotra is an experienced board certified pediatrician, a physician practicing Pediatrics, Family Practice, Allergy and Medical Aesthetics. She graduated from Lady Harding Medical College, New Delhi India and has extensive post graduate training and fellowships in leading US institutions. She enjoys learning new developments and advancements in practice of medicine and technology. Dr. Malhotra has won many awards including "Smartest Top 50 Pediatricians" many times in a competition of 10,000 US pediatricians.
Dr. Neema Malhotra has a passion for Medical Aesthetics and got trained by the Hollywood/Las Vegas physicians to make you look your best. She is a Fellow of American Society for Laser Medicine and Surgery and Academy of Aesthetic Medicine.
Dr. Malhotra is a United States Citizenship and Immigration Services (USCIS) approved Civil Surgeon. In addition to conventional medicine, she practices Holistic approach to healthcare and believes in total patient care and well being.
Dr. Neema Malhotra is the founder and managing physician of Silicon Valley Medical Clinic, Inc. and CosMedic Laser Clinic , Milpitas CA.
Dr. Malhotra enjoys watching science fiction, Jeopardy game show, follows Hollywood & Bollywood, interested in film & fashion.  She loves to work out daily, learn science of medicine and art of healing and well being. Dr. Malhotra speaks native English, Punjabi, Hindi, and Urdu.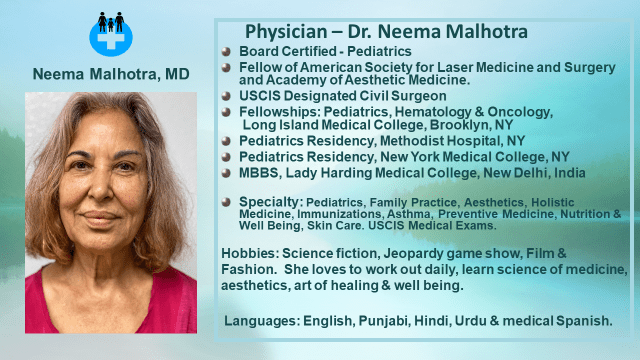 Click for CV & more Info > Neema Malhotra M.D
Ben Kachouei, D.O.
Dr. Ben Kachouei, a Pediatrician, a native Californian, joined our physicians team at Silicon Valley Medical Clinic in 2019.
Dr. Kachouei did his post graduate training in Pediatrics and residency  at renowned University of Texas Medical Center in Galveston, Texas in 2018. He did extensive training in general practice and Pediatrics including  Adolescent/Behavioral medicine, Asthma/Allergy, GI, Cardio, PICU, Heme/Onc, and Endocrine and additional electives focused on Pediatric Urgent Care and Emergency Medicine.
Dr. Ben Kachouei Procedural skills include: endotracheal intubation, umbilical catheterization, lumbar punctures, laceration repair, incision and drainage of abscess, splinting, Gomco clamp technique circumcision, simple foreign body removal, diagnostic study interpretation (EKG, radiographs), vaccine administration and  physical and sports exams.
Dr. Ben Kachouei did his Doctor of Ostopathic (DO) Medicine from Touro University California – Vallejo, CA in 2014.  Dr. Kachouei  did his B.S. in Biological Sciences at University of California, Irvine, CA in 2008.
Dr. Kachouei interests include Pediatrics, Family Practice, Immunizations, Asthma, Preventive Medicine, Nutrition & Well Being, Aesthetics and Skin Care.
Dr. Kachouei enjoys reading, learning about advances in medicine, working out, watching Lakers games, running obstacle course races, and playing basketball. Dr. Kachouei in addition to native English can also speak Farsi and Spanish.

Click here for CV and more info > Ben Kachouei D.O.
NPI 1518345453
Our Physicians have hospital privileges and or admitting arrangements at Regional Medical Center Hospital, Good Samaritan Hospital, El Camino Hospitals, O'conner Hospital and Valley Medical Center to admit & follow up patients and see newborns. We also refer our patients to Stanford Hospital.
Contact Us today
What Our Patients Are Saying About Us
Our Patients Love us !
Based on 17 reviews
See Our All Google Reviews on Google &  or Write a Review
OUR YELP REVIEWS
 Why not contact Silicon Valley Medical Clinic today at 408-945-0300 to make an appointment.
Cosmetic  and Prenatal Consultations are always FREE.